Time-critical OBC shipments by QUALITAIR&SEA Germany
Transporting time-critical shipments around the world
We are committed to doing everything needed to get your cargo delivered fast. During the last few days, our teams in Germany handled several On-Board Courier and Next Flight Out shipments.
Late Friday evening, QUALITAIR&SEA Germany was called and asked to handle a pick-up in a city two driving hours away from the next biggest international airport and deliver the next day to the final destination in Morocco.
Pick-up was performed during the night and shipment flew Saturday on a direct flight from RAM to Casablanca – and delivered that same evening.


While the driver was almost in Frankfurt, another call from the same supplier came to pick-up an additional shipment which was urgently required in Morocco as well.

During the trip, a third call that week-end was received asking to hold the cargo of the second pick-up and arrange a third pick up on Monday and fly those boxes together.
Cargo was therefore collected and stored in our office during the weekend and departed the next Monday.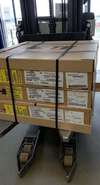 Thank you to everyone involved, we are proud of our team's commitment and sense of responsibility during these challenging times.
We are proud of all our teams who work for YOU every day!

On-Board Courier and Hand Carry dedicated solutions
At QUALITAIR&SEA, we provide On-Board Courier and Hand Carry dedicated solutions:
Strategically located in all major airports

Our team of experts is available 24/7/365

They personally accompany your shipment from pick-up to final delivery destination

Dedicated, our people are the main resource driving your success.
Our customer service is available 24/7 by e-mail or by phone to answer your questions and give you assistance.